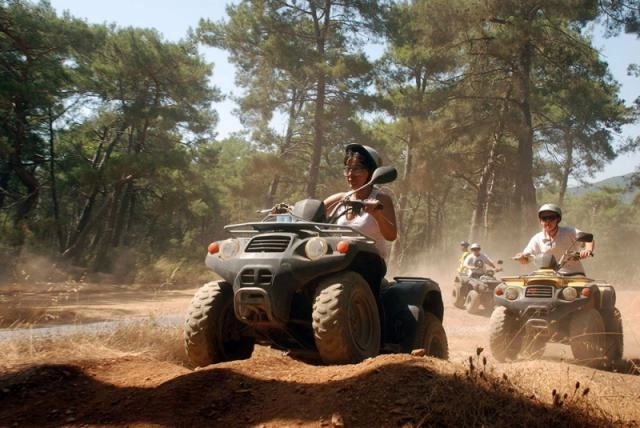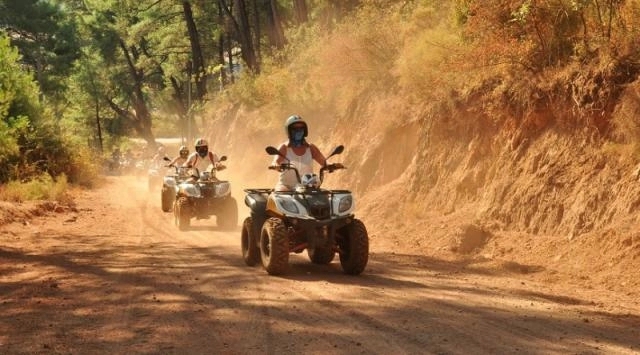 | | |
| --- | --- |
| Duration : | Hour |
| Group Size: | 30 Peoples |
| Type : | Active, |
| | |
| --- | --- |
| Date : | 01-05-2022 / 15-11-2022 |
| Min.Age: | 17+ |
| Pick-up Location : | HOTEL |
An exciting adventure on 4×2 ATVs, that's thrilling and fun. You'll be given safety instructions and time to get used to the controls before heading off. You're bound to get dusty and dirty as you make your way through the forest. Don't forget the camera.
Two times a day,ask for details
Included
Insurance
Petrol
Driver
Transfer
Guide
Itinenary
Öğlen Turu

Öğlen turumuz saat 12.30 başlamaktadır.

Akşam Turu

Akşam Turumuz saat 16.30'da başlamaktadır.
Evet sizleri konakladığınız yerden alıyoruz. Ama tranfer bölgelerimizde iseniz. Ölüdeniz, Ovacık, Hisarönü, Fethiye(sadece sabah seansı)
ATV motorlarımızın sürüşü oldukça kolaydır. otomatik vitestir.
Evet sizinle birlikte rehberiniz oluyor ve en önde konvoy halinde gidiyorsunuz.
Maalesef istediğiniz hızda gidemezsiniz çünkü dengenizi kaybedebilirsiniz? Rehberimiz sizler için en uygun ve risksiz olan hızı ayarlayacaktır.
Bir motora iki kişi binebilir.
Atv sürme yaşı 17, Anne babanın yanında tura katılım yaşı 7'dir.
Kuru dere yataklarından geçmektedir. Sulu veya çamurlu parkur yoktur.