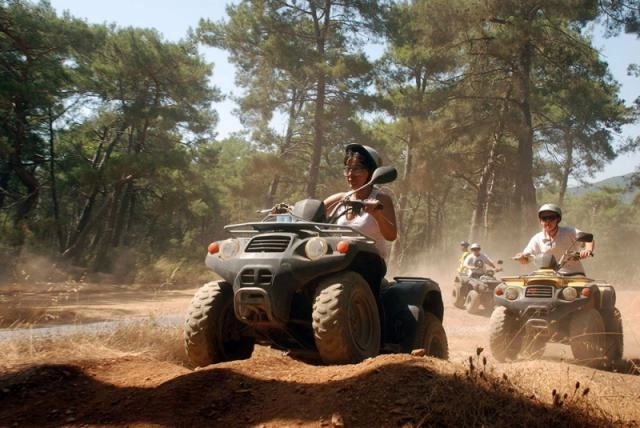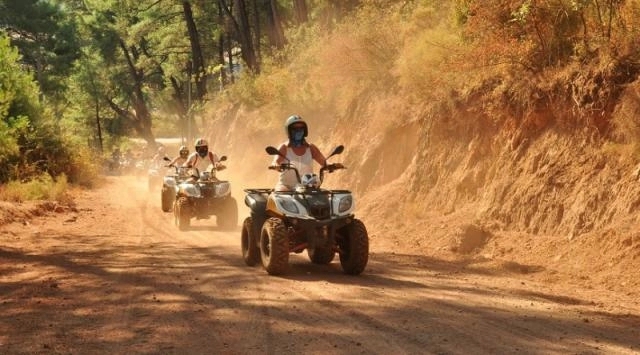 | | |
| --- | --- |
| Duration : | Hour |
| Group Size: | 30 Peoples |
| Type : | Active, |
| | |
| --- | --- |
| Date : | 01-05-2023 / 15-11-2023 |
| Min.Age: | 17+ |
| Pick-up Location : | HOTEL |
An exciting adventure on 4×2 ATVs, that's thrilling and fun. You'll be given safety instructions and time to get used to the controls before heading off. You're bound to get dusty and dirty as you make your way through the forest. Don't forget the camera.
Two times a day,ask for details
Explore Fethiye Ölüdeniz with an Exciting Quad Bike Adventure
Looking for an adrenaline-fueled adventure in Fethiye Ölüdeniz? Look no further than a thrilling quad bike experience! Fethiye Ölüdeniz is a paradise for outdoor enthusiasts, and riding a quad bike is an exhilarating way to discover its natural beauty.
Quad biking allows you to explore the rugged terrains and scenic landscapes of Fethiye Ölüdeniz like never before. These all-terrain vehicles are designed to handle various surfaces, from dusty trails to muddy paths, making them perfect for off-road adventures. Whether you're a beginner or an experienced rider, quad biking offers excitement and fun for all skill levels.
Picture yourself riding through the pine forests, feeling the rush of the wind against your face as you navigate through twists and turns. As you venture further, you'll witness breathtaking panoramic views of Ölüdeniz's turquoise waters, sandy beaches, and majestic mountains. The combination of adrenaline and natural beauty creates an unforgettable experience.
Safety is a top priority during quad bike tours in Fethiye Ölüdeniz. Before embarking on your adventure, professional instructors will provide comprehensive safety instructions and guidance on operating the quad bikes. They will ensure that you are equipped with the necessary safety gear, such as helmets and protective clothing, to make your ride as safe as possible.
Quad bike tours are available in various durations, allowing you to choose an option that fits your schedule. Whether you prefer a short and thrilling ride or a longer exploration of the region, there's a quad bike tour for everyone. Additionally, these tours often include stops at scenic viewpoints, allowing you to capture memorable photos and soak in the beauty of Fethiye Ölüdeniz.
If you're visiting Fethiye Ölüdeniz and seeking an adventure that combines excitement and natural wonders, quad biking is an excellent choice. Prepare yourself for an adrenaline-pumping experience as you discover the hidden gems of this breathtaking destination.
Included
Insurance
Petrol
Driver
Transfer
Guide
Itinenary
Öğlen Turu

Öğlen turumuz saat 12.30 başlamaktadır.

Akşam Turu

Akşam Turumuz saat 16.30'da başlamaktadır.
Evet sizleri konakladığınız yerden alıyoruz. Ama tranfer bölgelerimizde iseniz. Ölüdeniz, Ovacık, Hisarönü, Fethiye(sadece sabah seansı)
ATV motorlarımızın sürüşü oldukça kolaydır. otomatik vitestir.
Evet sizinle birlikte rehberiniz oluyor ve en önde konvoy halinde gidiyorsunuz.
Maalesef istediğiniz hızda gidemezsiniz çünkü dengenizi kaybedebilirsiniz? Rehberimiz sizler için en uygun ve risksiz olan hızı ayarlayacaktır.
Bir motora iki kişi binebilir.
Atv sürme yaşı 17, Anne babanın yanında tura katılım yaşı 7'dir.
Kuru dere yataklarından geçmektedir. Sulu veya çamurlu parkur yoktur.